Not to be confused with Powder Game 2, its successor.

Powder Game (often abbreviated to PG), also known as dust, is a popular particle simulator from the Dan-Ball website, with the ability to create things with the available elements, and then the option to upload them for others to vote or delete for. It can be found at http://dan-ball.jp/en/javagame/dust. A Powder Game update usually came after three updates to other games, before Powder Game 2 was implemented. As of ver9.6, it is the second most updated game, the first one being Stick Ranger. It is the 8th game released on Dan-Ball, and the first game to gain a sequel.
As of ver9.2, Powder Game is available to be played in HTML5, as a solution to Google Chrome dropping its Java support.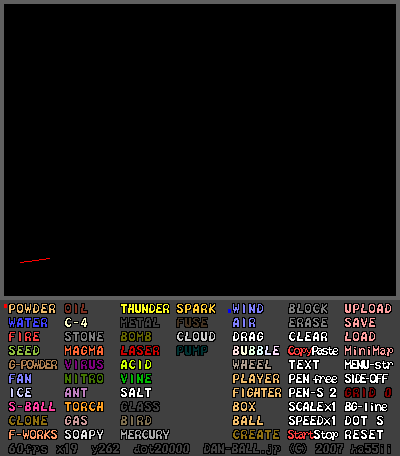 Powder Game history
The game started as a very simple simulation. It started with one element, powder, one object, block (called 'bloc' prior to ver4.9), and one tool, wind. It would look, to many users, as a game similar to Planet Simulation and Sand Moji combined, but the approval began when new elements were introduced, such as fire, gunpowder, and other objects. It became very popular during the expansion of fighters, probably based on the zombies from "Hell of Sand", but with capabilities such as kicking other fighters. The game became well-known across simulation-game sites after the introduction of uploading, allowing people to share their ideas openly with others. As new elements were introduced, innovative ideas were made for the games, including old pixel art (also known as checker-styling), fighter courses (before the expansion of hotkeys and the player functions), stop-art, sendai-styling pixel art, player courses, logic systems, and several other things, making the game a very intelligent sandbox, allowing one to run one's own ideas and share them with others. Some users take part in contests, where they make an upload about a certain topic.
Powder Game Timeline
Powder Game's timeline is somewhat interesting, and shows all 86 updates created, from Powder Game ver1.0 to ver9.6.
Upload types
In Powder Game, there have been many discoveries and creations. Some of the most common created uploads are:
Contests and contest entry uploads
C-4 mazes
Water filters and variants
Glitches
Electric Animations
Do/Don't uploads
Elements

Powder Game has 38 elements, each with its own unique properties. The word "element" is used in the sense of a game element, as opposed to a chemical element. Air can go through the elements, and it is only affected by the indestructible block. Therefore, both are usually not considered as elements.
*Artificial elements (they cannot be created simply by clicking an element and drawing)
¤Abbreviated in menu
On the Powder Game menu, the red dot (left click) starts out on powder, and the blue dot (right click) starts on wind, no matter if the player's starting from scratch or playing an uploaded game.
Special objects
Some special objects can be put in the game:
Tools and options
Main article: Tool
States of matter
Main article: States of matter
Powder Game has 7 states of matter:
See also
External links
Community content is available under
CC-BY-SA
unless otherwise noted.