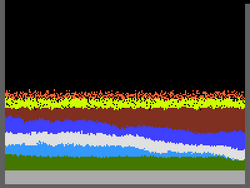 Liquid is a state of matter in Powder Game. Liquids simulate how liquids in reality flows and spreads out. All liquids are affected by gravity, wind, air, and drag. All liquids can also be moved in a predictable fashion by pump. Liquids can float above other liquids of greater density, and float on powders as well.
Liquid elements
How liquids work
When created, a dot of liquid will fall due to gravity unless there is wind, air, or something below it. Each individual dot of liquid will randomly move left, right, or stay in place every frame to simulate liquid in real life. Liquids are affected by gravity, wind, drag, and air, unlike solids.
Differences from liquids in reality
In a U-shaped tube, pouring liquid down one side of the U will cause the liquid to ONLY fill up that side.
Liquids will not balance in level if different amounts are poured into a U-shaped tube.