Image Required

This article needs more images.

Upload and include the following images in this article:

Images of general gameplay mechanics.
Not to be confused with the original Ham Race.
Ham Race 2 is a continuation of the game Ham Race, released at 10 April, 2015. It features different game mechanics and graphics (although old items seem to be reused), but retains the same general gameplay as the original. It is the 22nd game released on Dan-Ball, and the second game to be a sequel of the previous game, the first being Powder Game 2.
Gameplay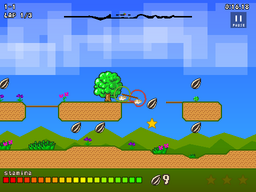 In the new version, players must try to navigate through a level as fast as possible for three laps. The level will restart and a new lap will begin each time the player reaches the end of the level.
Controls
Left arrow or D moves the Hamstermobile forward.
Right arrow or A moves it backward.
Up and Down arrow, W and S causes the Hamstermobile to jump.
As of ver1.2, the player can click the screen to start playing. Clicking the screen after pausing (outside of the pause button), however, does not unpause the game.
Objects
Seeds
Star
3 stars are placed in different locations of a stage. Players should try to obtain these stars if they want to attain overall completion.
Trivia
The option to control individual hamsters no longer exists.
Any seeds consumed during one session will not respawn on the next lap, meaning players must be careful as to not collect every seed in one lap.
The game appears to reuse several graphics from other games, mostly the original Ham Race.
The timer always stops at 9:59.98.
The start and pause screens had the typo "KYE" instead of "KEY" in ver1.0. This was fixed in ver1.1.
History
| Version | Date | Thumbnail | New features and changes | Blog[1] |
| --- | --- | --- | --- | --- |
| 1.6 | 17/08/2018 | | Bug fix (Scrolling while playing the game on smartphones). | jp/en |
| 1.5 | 22/01/2016 | | Ghost function addition. | jp/en |
| 1.4 | 11/09/2015 | | HTML5 Support. | jp/en |
| 1.3 | 08/05/2015 | | Replay addition. | jp/en |
| 1.2 | 24/04/2015 | | Stage selection screen addition. Star addition. | jp/en |
| 1.1 | 17/04/2015 | | Stage addition. | jp/en |
| 1.0 | 10/04/2015 | | Game creation. | jp/en |
↑

The original blog is written in Japanese. A link to an automatic translation into English by Google is also available.
See also
Community content is available under
CC-BY-SA
unless otherwise noted.