What is new on Dan-Ball Wiki
17 May, 2019 - SR Enemy Colour Issue

A new inconsistent colour naming was discovered among some SR enemies. Please decide on the naming of the colour in this talk page.
5 April, 2019 - SR2 Content page expansion

As Stick Ranger 2 gets constantly updated, we will need to expand on our pages for SR2. Please discuss on some potential issues from the expansion here
24 January, 2019 - Site Domain Migration Notice - Update

FANDOM, the wiki hosting service provider of this wiki, has migrated the domain of our wiki to "danball.fandom.com". Although redirection from "danball.wikia.com" to this site will be done by FANDOM (possibly until further notice), please use the new domain name to link to our wiki.
21 January, 2019 - Site Domain Migration Notice
4 June, 2018 - Stick Ranger Modding issues

Due to recent events stemmed from the constant posting of mods on the Dan-Ball comment boards without permission, users are urged to hide their mods from the public eye on this wiki. All links to several user's mods have been deleted, and all links to the Dan-Ball Discord have also been removed to prevent additional information leaks. We apologize for the inconvenience. For anyone reading this, PLEASE DO NOT POST LINKS TO STICK RANGER MODS ONTO THE STICK RANGER COMMENT BOARD! THIS CAN CAUSE POSSIBLE LEGAL ISSUES FOR EVERYONE INVOLVED!!
Write an Article
The Dan-Ball Wiki always needs people to help out! To write a new article, just enter the article title in the box below.
Not sure where to start?
If you are new to wikis, check out the tutorial.
Adding content
Every wiki has two list of articles that need help called "Stubs" and "Wanted Articles". Don't be shy, get in there.
Uploading images is another really easy way to help out - see the Special:Upload page! (This is a biggie just as creating articles is. Please upload images if you can!)
You can find a list of useful templates on Category:Templates, some of which are documented on the templates project page.
For the weekly Dan-Ball updates on Friday you can try to follow the instructions in the "Update Guide".
Talk and more...
Check out the community portal to see what the community is working on, to give feedback or just to say hi.
Every article has a talk page attached. Use it!
Featured article - Joint

Joint is a special object in Powder Game 2 implemented in ver3.2 (but only selectable in ver5.4). It joins dots of elements with a straight line (even when separated by block). Each end of a joint retains the property of the jointed dot. Joints can be removed by using clear on the ends of the joint.
Joints can be created with various attributes such as the capability to rotate autonomously, or the ability to stretch and shrink by itself. Together with the ability for jointed dots to retain its properties, Joints have many potential uses which have been widely used for various Powder Game 2 uploads such as moving objects. (more)
Featured media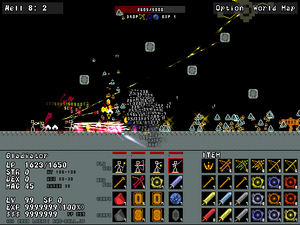 A Stick Ranger team fighting enemies in Hell 8 using 30th weapons.
---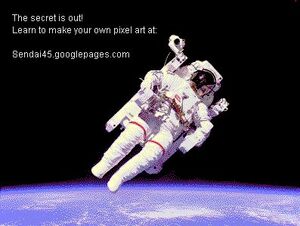 Powder Game upload Astronaut by sendai45
Fan-Ball Wiki
Our sister wiki, the Fan-Ball Wiki, is a wiki focused on fan-made ideas for Dan-Ball games and other community works such as stories.
Dan-Ball Discord
A Discord server for the Dan-Ball community is now available! Check out the Dan-Ball Discord!
Dan-Ball Forum
At last! A place to talk about anything and everything related to Dan-Ball! Featuring boards on all Dan-Ball Games and a friendly community, the Dan-Ball Forum!
Community content is available under
CC-BY-SA
unless otherwise noted.