Recent Dan-Ball Wiki News
6 August, 2021 - FANDOM Update on Wiki Theming

FANDOM, the wiki hosting service provider of this wiki, has updated the wiki theming design to a new one called FandomDesktop and the old designs will retire starting from 9 August 2021. Please note that while we have updated our design to be compatible with the new theming, some display bugs may be possible. Please feel free to report such issues to our administrator responsible for maintenance.
20 August, 2020 - Wiki Software Update by FANDOM

FANDOM, the wiki hosting service provider of this wiki, has updated our wiki to a new platform with updated software. Please note that some pages across the wiki may be broken by the new update, and feel free to fix these issues or report such issues to our administrator responsible for maintenance.
Write an Article
Not sure where to start?
If you are new to wikis, check out the tutorial.
Adding content
Every wiki has two list of articles that need help called "Stubs" and "Wanted Articles". Don't be shy, get in there.
Uploading images is another really easy way to help out - see the Special:Upload page! (This is a biggie just as creating articles is. Please upload images if you can!)
You can find a list of useful templates on Category:Templates, some of which are documented on the templates project page.
For the weekly Dan-Ball updates on Friday you can try to follow the instructions in the "Update Guide".
Talk and more...
Check out the community portal to see what the community is working on, to give feedback or just to say hi.
Every article has a talk page attached. Use it!
Latest News of Dan-Ball Wiki
6 August, 2021 - Contents on PG/PG2 Uploaders

Please participate on the ongoing discussion regarding the suitability to describing PG/PG2 uploaders in our Wiki.
Featured article - Character

Characters in Stick Ranger refer to the four stickmen that the player controls in the game. Characters have identical structures: a beige outlined square head, two hands, two legs and a body. While there doesn't appear to be a neck, the head is indeed connected to the body. When starting a new game, the player's first task is to assign each of the four characters a class. Thereafter, each character will have their own stats. (more)
Featured media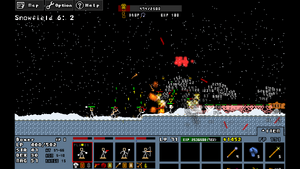 A team fighting enemies in Snowfield 6 in the mobile app edition of Stick Ranger.
---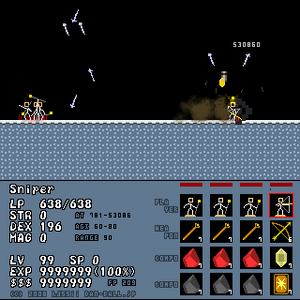 The maximum possible damage achievable in the game Stick Ranger.
Fan-Ball Wiki
Our sister wiki, the Fan-Ball Wiki, is a wiki focused on fan-made ideas for Dan-Ball games and other community works such as stories.
Dan-Ball Discord
A Discord server for the Dan-Ball community is now available! Check out the Dan-Ball Discord!
Dan-Ball Forum
At last! A place to talk about anything and everything related to Dan-Ball! Featuring boards on all Dan-Ball Games and a friendly community, the Dan-Ball Forum!