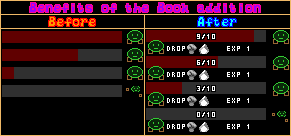 The Book is a feature in the game Stick Ranger that was implemented in ver3.0. It is located in the Town, Village, Resort and Forget Tree and functions as an enemy encyclopedia: for a one-time fee, the player can view the stats of all enemies in a stage (peak level, LP, gold dropped, as well as peak EXP). Enemy drops and their strengths and weaknesses are also displayed, where applicable. Once a page of a book is bought and the corresponding level re-entered, the enemy's LP bar will also show a small picture of itself, its current LP, max LP, drop items, and EXP (not the peak EXP, but the exact amount the team will get).
Cost of information
Information will be for sale only if the stage has already been conquered, otherwise there will be a '???' instead of the corresponding stage name. The books in any of the Town stages show the same information. If the player has bought a page of the book, he or she can view the information in the Shop, whether he or she is in the Town, the Village, the Resort, the Forget Tree or the Island.
Community content is available under
CC-BY-SA
unless otherwise noted.